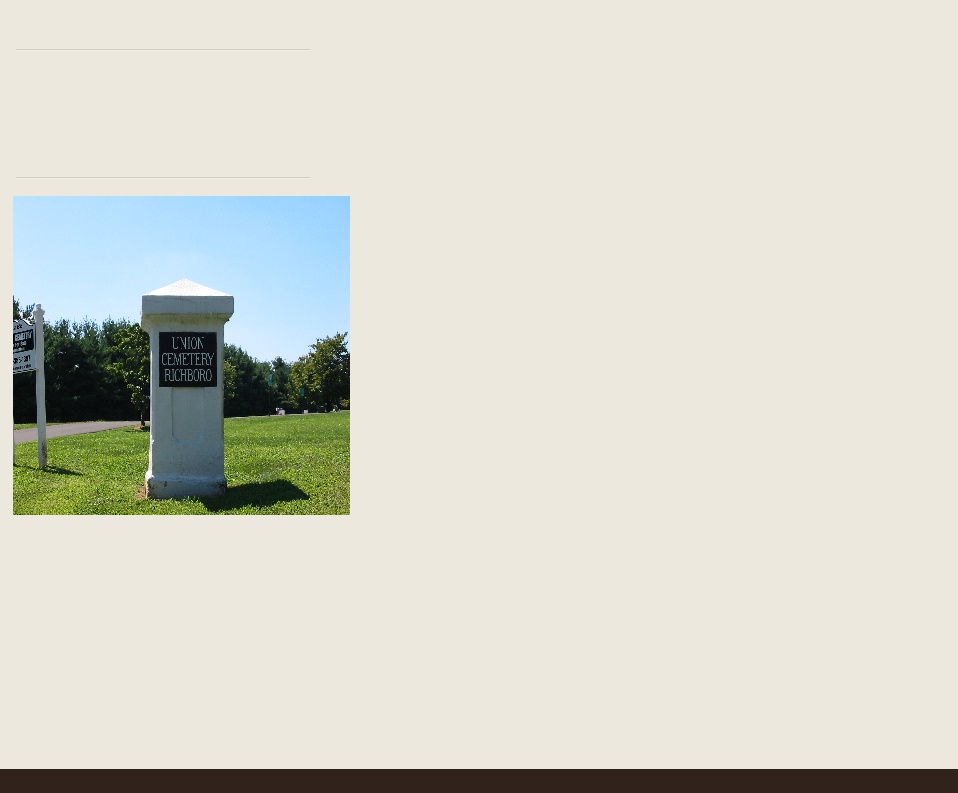 Instituted
April 30, 1855 A.D.

Incorporated
January 8, 1859 A.D.


Union Cemetery was instituted on April 30, 1855 A.D. and was incorporated on January 8, 1859 A.D. The official name is "Union Cemetery at Addisville".

The following was stated on an application to the Court of Common Pleas, of Bucks County in 1859. This Cemetery is eligibly situated in the township of Northampton, distant a quarter of a mile from Addisville, fronting on Hatboro road. It contains near eight acres of handsomely improved land formerly owned by Joseph Addis. It is a desirably located on a rising ridge of ground sloping to the south, and commanding a beautiful and extended view of the surrounding country for the distance of many miles. The managers named in the 1859 Act of Incorporation were James C. Cornell (President), Adrian Cornell Sr (General Superintendent of the Grounds), John Fenton (Manager), Thomas H. Hart (Treasurer), and Wm. Harris Jr (Secretary).


The "Northern Star Lodge #54 of the Independent Order of Odd Fellows of the State of Pennsylvania" was one of the oldest organizations in Bucks County. It is believed their first charter was 1825. They met in the White Bear until they purchased ground nearby in 1846, and erected a lodge building on Second Street Pike in Richboro. They also built the Union Cemetery on Almshouse Road starting in 1854 when they saw a need for a nonsectarian cemetery in the area. As time passed, membership dwindled, and it became necessary to sell their lodge hall in the mid-1960's. The remaining members joined the lodge in Jamison."

History of Union Cemetery

History - Union Cemetery

Copyright 20
12
Union Cemetery
209 Almshouse Road
Richboro, PA 18954